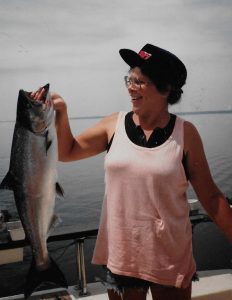 Verinda Jean "Rinny" Oberting 64, of Aurora, Indiana, passed away Friday September 20, 2019 in Lawrenceburg, Indiana.
She was born August 21, 1955 in Batesville, IN, daughter of the late Herman Ingles and Jo Ann (Brawand) Ingles
She loved to be outdoors. She liked to work in the yard, garden, canning, and fishing. Rinny's favorite past time was being with the family, especially the grandkids.
Verinda is survived by her loving spouse of 41 years Nick Oberting, Daughters, Amanda House of Aurora, IN, Alicia (Dusty) Tandy of Aurora, IN; Brothers, Herman (Sarah) Ingles of Aurora, IN, and Doug (Kim) Ingles of Manchester, IN; Grandchildren, Matt Oberting, Jeremy Turner, Chris Turner, Josh House, Keira Tandy, & Peyton Tandy.
She was preceded in death by father, Herman Ingles, mother, Jo Ann Brawand Ingles, siblings, Mike Ingles, Bruce Ingles, Joe Ingles, Kim Ingles, Doreen Rutledge & nephews, Grant Ingles and Rippy Ingles.
Friends will be received Tuesday, September 24, 2019, 2:00 pm – 4:00 pm at the Rullman Hunger Funeral Home, 219 Mechanic Street, Aurora, Indiana.
Services will be held at the Funeral Home, Tuesday at 4:00 pm, following visitation.
Contributions may be made to the Manchester Fire & EMS. If unable to attend services, please call the funeral home office at (812) 926-1450 and we will notify the family of your donation with a card.
Visit: www.rullmans.com