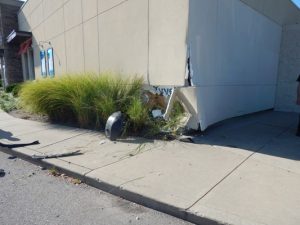 Columbus, IN—A Columbus woman was arrested for DUI and drug charges after she crashed her vehicle into the side of a fast-food restaurant on Wednesday morning. At approximately 10:25 a.m., CPD officers responded to Dairy Queen, located at 2215 N. National Road, in regards to the traffic accident.
The officers spoke with the driver of the vehicle involved in the crash, Jessi E. Baldwin, 37, of Columbus, who advised that she was driving in the parking lot and swerved her vehicle to avoid crashing into a vehicle that was coming directly at her. The officers noted that Baldwin showed signs of impairment and she was transported to Columbus Regional Hospital where a blood draw was completed.
Baldwin was later placed under arrest for Operating a Vehicle While Intoxicated. While searching Baldwin's purse prior to transporting her to jail, the officers reportedly located marijuana and drug paraphernalia. Baldwin was remanded to the Bartholomew County Jail staff on the following preliminary charges of Operating a Vehicle While Intoxicated, Possession of Marijuana, and Possession of Drug Paraphernalia.