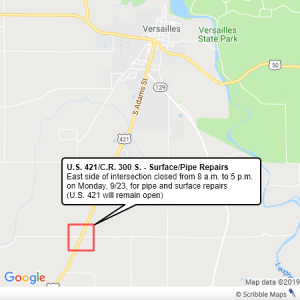 Versailles, IN— INDOT maintenance crews will perform pipe and surface repairs at the intersection of U.S. 421 and C.R. 300 S. in Ripley County on Monday, September 23, weather permitting.
C.R. 300 S. will be closed on the east side of the intersection from 8 a.m. to 5 p.m. while repairs are completed. U.S. 421 will remain open.
Motorists are urged to use extra caution and watch for crews near the work zone.