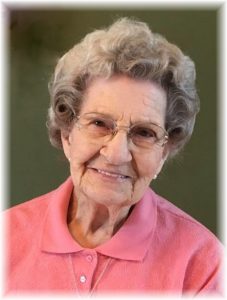 Rosemary Amelia Brinkman (nee: Herbert), age 90 of Batesville, Indiana passed away on Friday, September 20, 2019.  The daughter of Edward and Elizabeth (nee: Tunny) Herbert was born on March 26, 1929 in Batesville.  She married Melvin Brinkman on June 12, 1948 at St. Maurice Church in Napoleon, Indiana.  He passed away on July 25, 2006.
Rose was a wonderful mom and homemaker for her husband and seven children.  She also worked as a bookkeeper for Brinkman Construction until she retired in her 70's.  In their early years she and her husband, Melvin loved to square dance, going to a dance nearly every Saturday night.  Rose was an avid bowler as well.  She especially loved flowers.  Over the years she always enjoyed working in her beautiful flower gardens.  Crafting was another favorite of hers, always making 8 of something, one for her and of course, seven for the kids.  Rose liked spending time sewing and quilting too.  She also liked working her crosswords and word search books.  Rose was a member of Batesville VFW Auxillary #3183, St. Louis Catholic Church and belonged to the Batesville Ladies Red Hats. Most of all she loved being a mom, wife, grandmother and great-grandmother to her dear family.
She will be dearly missed by her children, David (Mary Beth) Brinkman of Batesville, Steve Brinkman of Batesville, Dan (Lisa) Brinkman of Indianapolis, Dale (Carol) Brinkman of Batesville, Linda (Tom) Amberger of Greensburg, Carol (Steve) McGrath of Cincinnati and Mary Kay (Joe) Roberts of Oldenburg; 7 grandchildren, Chuck, Angie, Mark, Eric, Andy, Michael and Alex; 14 great-grandchildren along with her brother Tom Herbert,  and sisters, Margaret Dickman, Dianna Young, Dorothy Halcomb, and Patricia Seevers.
In addition to her parents, and husband, she was preceded in death by her brother Paul Herbert, and her sisters Catherine Herbert and Betty Johnson.
Visitation will be Monday, September 23, 2019 from 4:00–7:00p.m. at Meyers Funeral Home.  Mass of Christian burial will be at 12:00 noon on Tuesday, September 24th, at St. Louis Catholic Church in Batesville.  Father Stanley Pondo officiating.  Burial to follow in the St. Louis Cemetery.
Memorials may be given to Margaret Mary Hospice c/o the Meyers Funeral Home.  Online condolences www.meyersfuneralhomes.com.