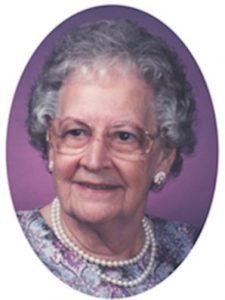 Mary E. Schutte, age 99 of Batesville, died Friday, September 20, 2019 at The Waters of Batesville.  Born May 24, 1920 in Batesville, she is the daughter Laura (Nee: Gander) and Louis Firsich.  She married John H. Schutte June 21, 1941 and he preceded her in death on February 13, 1994.
A lifelong resident of Batesville, Mary was a member of St. Louis Church and a lifetime member of the Ripley County VFW Ladies Auxiliary.  She volunteered at the St. Louis School cafeteria until she was 85 years old.  Mary loved to crochet, making hundreds of afghans that were given to her children and grandchildren.  She entered some of them in the Ripley County Homemakers exhibit at the county fair, winning a Reserve Champions ribbon.  Mary loved birds.  She looked forward to spring when the Purple Martins and Wrens would arrive and the variety of birds that visited her feeders in the winter.  She even grew fond of the squirrels and chipmunks that would raid the feeders.
Mary and John raised 13 children on a farm south of Batesville.  She was constantly chasing after the kids, cooking, cleaning and helping John on the farm.  She also raised chickens, selling the eggs to neighbors and butchered them with help from the kids. She enjoyed making homemade bread, coffee cakes, turtle soup and homemade ketchup.  Mary relied on her faith to get her through the hard times.  When she was no longer able to attend mass, she faithfully watched it on EWTN three times a day and prayed countless rosaries.  She became a promoter of the Miraculous Medal over 65 years ago and had a special devotion to the Blessed Mother.  In addition to her daily prayer, Mary liked working word search puzzles, watching the Reds, I.U. football and basketball and anything on the Hallmark Channel.  A strong-willed woman, Mary lived alone following John's death until a month ago.
She is survived by her daughters Theresa (John) Volz, Pauline (Larry) Prickel both of Osgood, Debbie (Gil) Salatin, Sheila (Dennis) Shadday, both of Batesville, Mary Edwards of Brookville, Brenda (Jerry) Moll of Batesville; sons John L (Becky) Schutte of Greensburg, Denis (Connie) Schutte of Batesville, Lloyd (Becky) Schutte of Osgood, Tim "Harry" (Pam) Schutte, Larry (Diana) Schutte and Rick (Rita) Schutte, all of Batesville; daughter-in-law Marcie Schutte of Greensburg; sister Alberta Amberger of Batesville; 47 grandchildren; two step grandchildren; 83 great grandchildren; numerous step great grandchildren and nine great great grandchildren with two on the way.  In addition to her husband and parents, she is also preceded in death by her son Vic Schutte; brothers Cornelius, Aloysius and Francis Firsich; grandson Joshua Schutte and great grandsons Jack Volz and Whitman Patrick.
Visitation is Monday, September 23rd, from 4 – 7 p.m. at the Weigel Funeral Home.  Funeral services are 10 a.m. Tuesday, September 24th at St. Louis Church with Rev. Dennis Duvelius officiating.  Burial will follow in the church cemetery.  The family requests memorials to the Ripley County Right to Life or St. Jude's Children's Hospital.