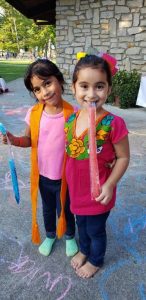 Batesville, IN—The second annual Fiesta Hispana presented by the Hispanic Community Advisory Committee (HCAC) is set for Saturday, September 21 at Liberty Park. The popular event celebrates Hispanic Heritage Month and features authentic Mexican cuisine, authentic music, dancing, family activities, children's games and more.
Fiesta Hispana begins at 3 p.m. and takes place in the Liberty Park pavilion where the authentic food is cooked on site. Tacos, tamales, and carnitas are among the foods that will be available for a minimal cash donation.
"The inaugural Fiesta Hispana brought a huge crowd out to celebrate the Hispanic heritage shared by so many in our area," said HCAC President Jodi Alexander. "This year we're expecting even more people for what has turned out to be a wonderful event for all."
The Batesville Area Arts Council (BAAC) is presenting two bands who will spice up the celebration with their popular acts that represent the diverse range of musical styles in Latin America. The bands are Trio De Colores and Tropicante.
Trio De Colores is a 3-person mariachi band that will bring the sound of Mexico to Liberty Park. Mariachi is a distinctive musical style that dates back to at least the 18th century in various regions of western Mexico.
Tropicante will bring their international act to Batesville where you'll be swinging and clapping to the Colombian "cumbia," the Dominican "merengue," the Venezuelan "tambor," the Brazilian "samba," and more. The 4-person ensemble has brought smiles to thousands with its contagious, upbeat music.
"We are excited to offer some additional support to another organization and saw this as an opportunity to expand the community's cultural awareness, which is a primary goal of the BAAC," said Leon Enneking, Vice President of BAAC.
BAAC formerly known as The Rural Alliance for the Arts (RAA) is a not-for-profit organization founded in December 1988 to promote the arts by providing opportunities for artistic education, expression, and enjoyment in Batesville and the surrounding area.
Proceeds will benefit the HCAC scholarship program for graduating seniors in Southeast Indiana who are either Latino or planning to major in a foreign language.
The Hispanic Community Advisory Committee of Batesville is a volunteer-driven organization. We are a bridge between cultures and help local Hispanics and Latinos that live and work in our community. We provide translation services, English as a Second Language classes, college preparation, scholarships, and other community services.