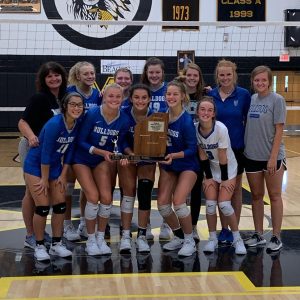 The Varsity Lady Bulldogs won the Ripley County Tournament Saturday.
Our first match was against the South Ripley Raiders. We dominated the first set winning 25-11. The Raiders then fought back to keep the second set close but the Dogs won 25-23 to advance to the championship match against the Milan Indians.
It was a good day for the Lady Bulldogs as we defeated Milan 25-15 then 25-18 to capture the trophy. We were led offensively by Katie Bedel with 20 kills on the day followed by Macy Prickel with 14. Laney Walsman and Nikki Fox led the team defensively. Kylie Laker had a great day serving and had 44 assists on the day.
It was a great day for Bulldog Volleyball.
Courtesy of Bulldogs Coach Kateri Paul.