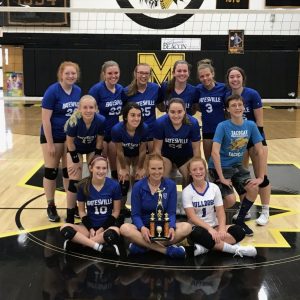 The Batesville Lady Bulldog JV Volleyball team claimed the Ripley County Tourney title on Saturday by defeating South Ripley (25-6; 25-13) in the opening round and Milan (25-11; 25-16) in the championship game.
In the first match, Naia Bustinza was aggressive from the service line scoring 17 points including 7 aces in 20 attempts. Shelby Westerfeld contributed with 6 service points including 3 aces and dominated the net with 8 kills. Belle Westerfeld knocked in 5 kills of her own in the winning effort. Brayleigh Patterson and Kennedy Westrick both led the defense with 8 digs a piece.
In the championship game, Kaitlyn Sarringhaus set pace with 9 service points including an ace prompting 2 time-outs from the Lady Indians. Westrick scored 7 points including 3 aces. Offensviely, S. Westerfeld and Bustinza earned 6 and 5 kills respectively. Sophie Lee was solid all around with 4 service points, 3 kills, and a team-high 16 digs. Regina Gerstbauer was consistent in her setting role with 13 assists in each match for the day. The wins improve the team's record to 11-6.
Courtesy of Bulldogs Coach Shelly Prickel.