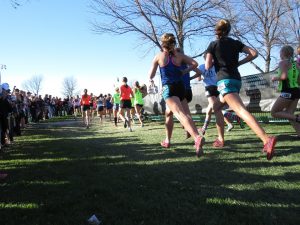 Saturday morning, the Batesville Cross Country team traveled to Indianapolis to compete in the 21 team Ben Davis Invitational. The action began at 9:30 am as the top 10 men's Bulldog XC members stepped up to the line to compete against 21 other teams with many of them 4A/5A schools and ranked in the top 25 of the state.
Batesville ran an impressive race as they had 4 boys cross the line in the top 25 to help them secure an incredible finish place of 3rd, just missing out on 2nd by 1 place. Center Grove was crowned the championship team with an amazingly low score of 30 points. Ben Davis followed with 104 and Batesville placed 3rd with 105. Zionsville placed 4th with 114 points with Plainfield finishing out the top 5 with 138 points. Leading the way for the Bulldogs was Adam Moster placing 8th (16:37) followed closely by teammate Ean Loichinger in 9th (16:40). Joshua Myers came in 19th (17:00) with Benjamin Moster closely behind in 21st (17:05). Daren Smith placed 48th (17:41) and finishing out the top 7 were Dillon Murray 57th (17:55) and Nathan Villani, 71st (18:30).
The Varsity Girls were up next and did not disappoint. Again, not running at full strength, many of the girls stepped up their game and helped Batesville secure the 6th spot. Noblesville was crowed the champions with just 35 points beating the rest of the field by almost 100 points. Fishers came in 2nd at 131 points with Franklin Central and Brownsburg coming in 3rd and 4th both with 147 points. Plainfield grabbed 5th place at 160 points and Batesville following just behind them at 170 points. Leading the way for the dogs and running a personal best by 1:15 seconds was freshman Ava Hanson placing 8th and racing through at 19:27. Maria Lopez was the 2nd one through for the dogs in 31st (20:39). She was closely followed by teammates Sophie Myers in 34th (20:50) and Trysta Vierling 39th (20:57). Finishing out the top 7 runners for the team was Liz Loichinger in 58th (21:43), Katie Olsen 59th (21:44) and Sarah Ripperger 73rd (22:15).
The JV races followed the varsity races. Leading the Bulldogs for the boys in the JV race was Kasin Hughes and for the girls Kali Wickersham. Overall for the morning, Batesville had 10 runners racing for a personal best. Besides Ava, the girls also had Maria Lopez, Sophie Myers and Trysta Vierling. On the Boys side, Benjamin Moster, Daren Smith, Nathan Villani, Charlie Laymon, Will Nuhring and Kasin Hughes all had personal bests for the day.
Congratulations to all and for a fairly successful Invitational. The Dogs only have a few days rest as they will be back competing this Tuesday at Jennings County for their Invitational. The action begins with the Boys race at 5:30.
Courtesy of Bulldogs Coach Lisa Gausman.