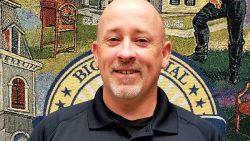 Rising Sun, IN—The annual Indiana Law Enforcement Officers Memorial Service will be held on Thursday, September 19, 2019, at 7:00 PM. The service is held at the Indiana memorial located at 102 N. Senate Avenue, Indianapolis.
Chief David P. Hewitt, end of watch February 13, 2019, from the Rising Sun Police Department, will be honored and added to the state memorial that night.
Hewitt, 49, died in a single-vehicle accident on State Road-56 in Switzerland County. According to the the Switzerland County Sheriff's Office, icy road conditions may have played a role in the accident.
In case of Incremental weather, the event will be held in the Capitol Rotunda.