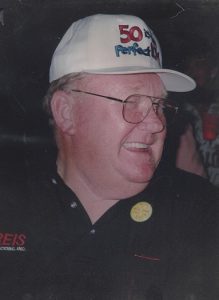 Dale L. Allen, of New Alsace, was born on May 23, 1946 in Dearborn County, a son to John and Anna Seevers Allen.  He worked for Reis Trucking and owned Klump's Tavern.  Dale was a member of St. John Lutheran Church – Hubbell's and the New Alsace Conservation Club.  He liked going to Rising Star Casino and playing cards.  On Friday, September 13, 2019 at the age of 73, Dale passed away after a battle with cancer.
Survivors include his brother, Don Allen of Guilford; special nephew, Jim (Amy) Allen of Sunman; several nieces, nephews, great nieces and nephews, and many friends.  Besides his parents, he was preceded in death by one brother, Bob Feller, and one sister, Carol Jean Scheibel.
Friends may visit with the family on Wednesday, September 18, 2019 from 4 until 8 p.m. at Cook Rosenberger Funeral Home, 107 Vine Street, Sunman.  Pastor Ladona Webb will officiate the funeral service at 10 a.m. on Thursday at St. John's Lutheran Church – Hubbell's.  Cremation will follow.   
Memorial contributions can be directed to Loving Hearts Hospice or to the New Alsace Conservation Club.  To sign the online guestbook or to leave personal memories please visit www.cookrosenberger.com.  The staff of Cook Rosenberger Funeral Home is honored to serve the family of Dale Allen.