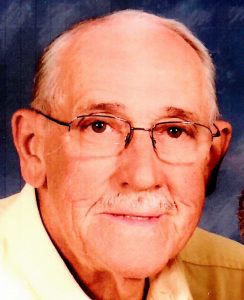 Robert L. Ashcraft, 85, of Indianapolis, formerly of Milan, passed away Monday, August 26, 2019 at Marquette Health Care in Indianapolis.  Bob was born Sunday, December 3, 1933 in Aurora, the son of Glendon and Augusta (Windhorst) Ashcraft.  He married Marilyn Grathwohl February 7, 1959 and she survives.  He was a member of St. Charles Catholic Church.  He served his country in the U. S. Army.  He worked for Fernald's quality assurance department, was a member of the Milan Lions Club and Milan American Legion Post #235.  He was an avid reader and enjoyed golf.
Bob is survived by his wife Marilyn of Indianapolis; daughter Lori (Nathan) Nickell of Indianapolis; grandchildren: Nikki (Rich) Phillips, David Ashcraft, Aften Ashcraft and Kelly (Anthony) Brock; and great grandchildren: Kinley, Jack and David Brock.  He was preceded in death by his parents; son David Ashcraft; brothers: Howard and Clayton Ashcraft; and sister Verna "Mickey" Heller.
Mass of the Resurrection will be held 11 AM Saturday, September 21, at St. Charles Catholic Church, 213 W Ripley Street, Milan, IN 47031 with Father Stanley Pondo officiating.  Private family burial will follow the Mass.  Family and friends may gather to share and remember him after the Mass in the Fellowship Hall.  Memorial contributions may be given in honor of Bob to St. Vincent Hospice, Marquette Health Care or Milan Lions Club.  Laws-Carr-Moore Funeral Home entrusted with arrangements, Box 243, Milan, IN 47031 (812)654-2141.  You may go to www.lawscarrmoore.com to leave an online condolence message for the family.