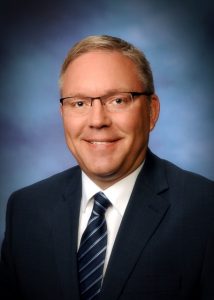 Batesville, IN— Paul Ketcham, superintendent of Batesville Community School Corporation, has been named 2020 Superintendent of the Year for District VIII by the Indiana Association of Public School Superintendents (IAPSS).
Winners are selected by other superintendents in their district who consider the qualifications and accomplishments of area colleagues and their instructional leadership in a time of scarce resources.
Ketcham has been superintendent of Batesville Community School Corp. since 2017. He was previously superintendent of Milan Community School Corp.
The Batesville community is known for valuing quality education, and Batesville Community School Corp. is committed to cultivating and strengthening community partnerships for positive student outcomes, including:
The school district partners with the Batesville Area Arts Council to provide one of the best arts education programs in Indiana.
Through a partnership with Ivy Tech-Batesville, Batesville High School students enroll in dual credit courses during the normal academic day. Students can earn transferable credits focused around graduation pathways.
The district collaborates with three local manufacturing companies to develop K-12 programs focused on workforce development.
CREATE, a nonprofit foundation, supports technology in the district through financial assistance, technical support, and guidance.
Ketcham graduated from Northern Kentucky University and earned post-graduate degrees from Olivet Nazarene University and Indiana Wesleyan University.
District VIII includes Bartholomew, Brown, Dearborn, Decatur, Clark, Floyd, Franklin, Harrison, Jackson, Jefferson, Jennings, Ohio, Ripley, Scott, Switzerland and Washington counties.