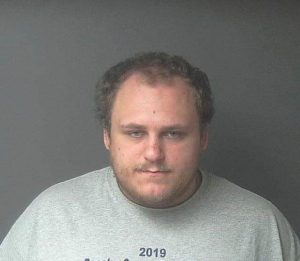 Laurel, IN—On Tuesday, detectives with the Indiana State Police arrested a Franklin County man on charges of possession of child pornography.
The investigation by the Indiana State Police-Indiana Crimes Against Children Task Force, began when a tip was received from the National Center for Missing or Exploited Children. The tip led to a search warrant being served on Stone Church Road, Laurel.
Detectives with the Indiana State Police ICAC Task Force served the warrant with the assistance of the Indiana State Police-Versailles Post, Indianapolis Metropolitan Police Department, Martinsville Police Department, and the United States Secret Service.
As a result of the investigation Kyle Martin Lee Roy Monroe, age 22, was arrested at the residence on five charges of Possession of Child Pornography. He was transported to the Franklin County Jail where he was incarcerated pending his initial appearance in the Franklin County Circuit Court.
The Indiana State Police continues to partner with other agencies to pursue those who choose to exploit children. Anyone who has information on ongoing child exploitation is urged to call the National Center for Missing and Exploited Children Hotline at 1-800-THE-LOST (1-800-843-5678).