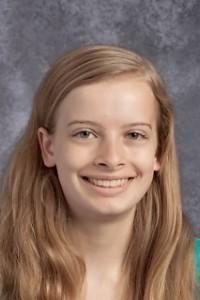 Batesville, IN—Mr. Andy Allen, principal at Batesville High School, announced today that Erin E. Batta has been named a Semifinalist in the 2020 National Merit Scholarship Program. Erin is among approximately 16,000 semifinalists from across the nation recently named by the National Merit Scholarship Corporation. Erin is the daughter of Nick and Faith Batta.
Erin has the opportunity to continue in the competition to receive some National Merit Scholarships worth more than $31 million that will be offered next spring, according to the program. They were narrowed down from 1.5 million junior students from more than 21,000 high schools who entered the scholarship program in 2018.
To be considered for a Merit Scholarship award, the semifinalists must fulfill several requirements to advance to the finalist level. About 90 percent of the semifinalists are expected to do so, with about half of those students earning the Merit Scholar title and a National Merit Scholarship.
National Merit Scholarship winners of 2020 will be announced in four nationwide news releases beginning in April and concluding in July.