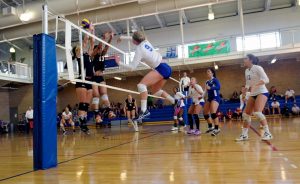 Franklin County High School Girls Varsity Volleyball falls to Centerville High School 3-1. 25-18, 25-18, 10-25, 25-15.
The Centerville match was a good matchup for us. We had a few early on issues but managed to pull through those issues and keep with them. Sets 1 and 2 were extremely close but I'll give credit to 2 if his players. They had some good servers. They pushed the score upon us and we just never gained them back. But set 3 we had Kelsey Vail with 4 great serves including 2 aces and Makyah served 8 with 2 aces. Set 4 came back around and some of the volleys didn't end in our favor and we lost set 4. But not do I love to see these girls play this competitively. Jalynn Rogers had 2 ace serves and 10 digs. Kelly Layton had 1ace serve, 1 dig and 3 assists.
Makyah Richardson led the team with 7 kills, 6 solo blocks and 3 digs. Rachel Bischoff had 2 kills and game-high 16 digs. Charlotte Barrett had 1 kill, 4 blocks and 1 dig. Anna Sacksteder had 2 kills. Mercedez Waddell had 2 solo blocks and 2 digs. Kelsey Vail had 6 digs. Audrey Reister had 2 digs and 7 assists. Rae Ertel had 2 digs.
We play at home against Milan next, JV starts at 5:30 pm. We are FC!!! Come out and support your Lady Cats.
Courtesy of Wildcats Coach Jill Mergenthal.