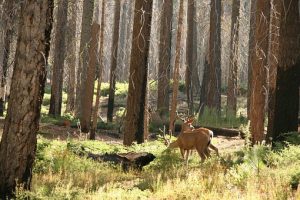 Statewide—Deer season is quickly approaching. There are several license options available:
* Deer bundle license – If you hunt in more than one season, this is the license deal for you.
A deer bundle license can be used in all seasons (except the deer reduction zone season) using legal equipment during that season and gives the hunter the privilege to harvest up to three deer (3 antlerless OR 1 antlered and 2 antlerless deer).
Season dates, legal equipment, and all other deer hunting laws apply. Antlerless deer taken with a deer license bundle can count toward the archery season bag limit, muzzleloader season bag limit, or as a bonus antlerless deer in that county, depending on the season and equipment used.
* Youth hunt/trap combo license – Resident youth must purchase a youth combo license, which includes deer hunting privileges.
* Crossbow license – A crossbow license is required to use a crossbow during archery season.
* Archery license – The archery license allows longbows, recurve bows, or compound bows to be used during archery season.
* Firearms license – The firearms license can only be used for a buck during the firearms season.
* Muzzleloader license – This license can only be used in the muzzleloader season.
Licenses can be purchased online, at a retailer, or over the phone at 317-232-4200.
Remember, to get a discounted bonus antlerless license, you must first purchase a bonus antlerless license at the regular price. Purchasing a deer firearms license or deer bundle license does not qualify towards the discount.