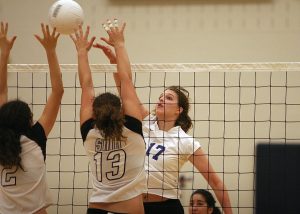 The Varsity Lady Bulldogs traveled to Rushville last night for a conference match-up winning 25-22, 14-25, 25-22, 25-22.
It was a competitive contest against the Lions. Batesville had starter Kerigan Haskamp return to the line-up for the first time since her ankle injury in August. Kerigan's blocking makes a difference and proved helpful against Rushville. The Dogs won in a 4 set match with the help of some key JV players who stepped up for the team. Sydnee Schaefer and Naia Bustinza came off the bench to spark our defense and were tough servers.
Our next match is against Jennings County on Thursday evening.
Courtesy of Bulldogs Coach Kateri Paul.
After an exciting tourney win over the weekend, the Lady Bulldog JV Volleyball team turned in a lackluster performance against a determined Rushville team falling by the scores 25-19, 25-12.
The team committed 20 hitting errors and struggled with passing consistency as well. Even with all the mistakes on our side of the net, much credit belongs to Rushville for playing more inspired ball. Kaitlyn Sarringhaus had 5 service points. Naia Bustinza led the team with 22 good digs.
The team hopes to bounce back with an improved performance on Thursday as they host Jennings County.
Courtesy of Bulldogs Coach Shelly Prickel.