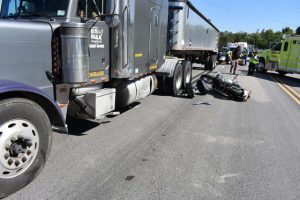 Versailles, IN—The Indiana State Police continues to investigate a crash that occurred at 3:30 pm on September 4, 2019, in Ripley County between a motorcycle and a semi that sent the motorcyclist to the University of Cincinnati Hospital with serious injuries.
The initial investigation by Trooper Matt Holley indicated that a 2009 Kawasaki Vulcan motorcycle being test-driven by Orval W. Smock, age 76, Rising Sun, Indiana was traveling northbound on Main Street in Versailles, Indiana at the intersection with US 50. Smock entered the intersection into the path of a westbound 1999 Peterbilt being driven by John C. Kiste, age 49, North Vernon, Indiana. The investigation determined that Smock failed to yield the right of way to Kiste's vehicle.
Smock's motorcycle collided with the driver's side of Kiste's vehicle. Smock sustained serious but non-life threatening injuries in the collision. He was transported to the University of Cincinnati Hospital for treatment. Kiste was not injured in the crash. He submitted to a blood test, per normal protocol, however, alcohol and drugs are not believed to be factors in the crash.
Smock was test driving the motorcycle from Thornton's Motorcycle Sales in Versailles, Indiana when the crash occurred. The investigation by troopers with the Indiana State Police-Versailles Post is ongoing at this time. Toxicology results are pending.