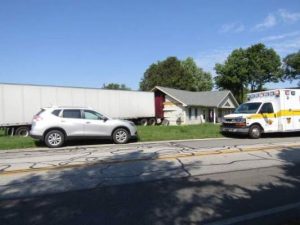 Edinburgh, IN— Lynn Stover, an Edinburgh resident was at work when a semi-tractor driver passed out behind the wheel, drove off the roadway and plowed into her rental home Monday afternoon at the corner of Grant and Toner streets.
Photos from the scene showed the cab of the semi entirely into the home, which police say was vacant at the time of the crash. The truck crashed into the side of the duplex and tore through a bedroom, bathroom and living room before screeching to a halt in the kitchen, according to a witness.
The driver, a 62-year-old man, passed out behind the wheel before the crash, authorities say. The unidentified driver was alert while being extricated from his vehicle and transported to IU Health Methodist Hospital in Indianapolis.