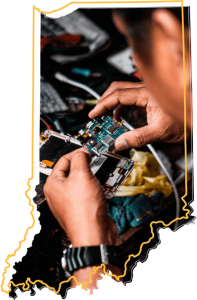 Greensburg, IN— Indiana residents along the I-74 corridor are getting a chance to improve their economic future through the Catapult Greensburg initiative, part of a statewide effort to get more Hoosiers into the manufacturing workforce. Catapult Greensburg is the local branch of Conexus Indiana's Catapult Indiana initiative. Catapult prepares unemployed and under-employed Hoosiers with skills they need to enter today's manufacturing environment.
Conexus Indiana launched Catapult Greensburg to recruit from Decatur County and other surrounding counties mainly along I-74. Each month-long class trains at the Greensburg Community Learning Center, a facility connecting people with multiple agencies that can help in education, training, and career development.
For many recruits into the program, it is a second chance for employment or a longer-term, stable career. The first class of Catapult Greensburg began in mid-August and will graduate on September 13. During four weeks of training, students get paid an hourly wage for class participation, are trained for job expectations in the modern manufacturing environment, and gain exposure to potential employers.
The program depends on the direct involvement of local manufacturing companies who commit to interviewing program graduates and ultimately making job offers. Along with Honda Manufacturing of Indiana, which is coordinating the training, multiple local companies are also participating in Catapult Greensburg, including Delta Faucet Company, One Solution Logistics, Kelly Services, Hitachi Powdered Metals (USA), Inc., and CFA Staffing, Inc.
"There are talented Hoosiers who can make an immediate impact at any of our regional manufacturing employers," said Tim Myers, senior vice president at Honda Manufacturing of Indiana. "Catapult Greensburg is about finding these people and giving them an opportunity. It benefits our business, our community and, most importantly, the employees because they will have the training and skills to be successful."
Conexus Indiana began Catapult as a way of meeting the critical needs of manufacturers who consistently have problems filling jobs with people skilled to do the work.
"Indiana is fortunate to have an abundance of manufacturing jobs, but it can be a struggle for companies to find the right talent — and for Hoosiers to know where to obtain the skills they need," said Brad Rhorer, chief talent programs officer for Conexus Indiana. "Conexus Indiana is excited to see how Catapult can help connect Hoosiers looking for career opportunities with employers who need skilled talent. We're pleased with the fast start that Catapult Greensburg has had, and for all the participants and employers who will have a brighter future because of this program," he said.