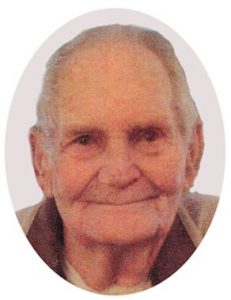 John E. Doyle, age 89 of Batesville, died Thursday, September 5, 2019 at Copper Trace Senior Living in Westfield, Indiana.  Born November 13, 1929 in Ripley County Indiana, he is the son of Georgia (Nee: Smith) and Edward Doyle.  He married Helen Rose "Fuzzy" Enzinger July 9, 1955 at St. Louis Church and she preceded him in death August 25, 2007.  John served in the Navy during the Korean War, was owner operator of Doyle Heating and Cooling, and later retired from the U.S. Postal Service.
John was a devoted family man who enjoyed spending time with his 2 children, 2 grandchildren and 2 great grandchildren.  Sports were another passion.  He was an avid golfer and a huge fan of the Cincinnati Reds and I.U. sports.  Rarely did he miss a Hoosiers game on T.V.  John liked cards and was hard to beat at Euchre and even harder to beat at poker.
He is survived by his daughter Patricia Doyle of Batesville; son Jon (Kendra) Doyle of Indianapolis; sisters Doris (Leon) Huffman of Columbus, Indiana, Audrey (Cliff) Hildebrand of Greensburg, Indiana, Judy Doyle of Pleasanton, Texas, Mary Jane (Jim) Hughes of Versailles, Kentucky; brothers Calvin "Hap" (Mary Ann) Doyle of Dayton, Ohio, Dick "Pete" (Judy) Doyle of Roswell, Georgia, David Doyle of Rushville, Indiana; two grandchildren Jana (Shane) Hageman and Eric Doyle, two great grandchildren, Conrad and Christian Hageman.
A graveside service will be held 11 a.m. on Tuesday, September 10th at St. Louis Cemetery.  The family requests memorials to American Heart Association.  Weigel Funeral Home is in charge of arrangements.  For online condolences go to www.weigelfh.com.