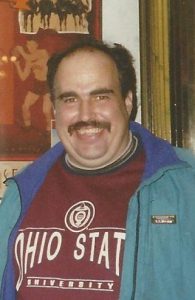 William "Bill" Cameron, age 63 of Greendale, Indiana passed away Thursday, August 29, 2019 in Greendale, Indiana. Born January 10, 1956 in Hamilton, Ohio the son of Francis and Mary (Lewe) Cameron.
Bill married Angela Manganello December 27, 1986. Graduated from Ross High School in 1974 and received his teaching degree from North Kentucky University. Taught at St. Cecilia School in Oakley for many years.
Bill is survived by his siblings Kathleen Menninger, Dianne DeSalvo, Eileen (Jack) Tharp and Bob (Patty) Cameron. Also survived by many nieces and nephews.
Preceded in death by his parents Francis and Mary Cameron, wife Angela Cameron.
Visitation will be held Thursday, September 5, 2019 from 9:00 A.M. until time of Mass at 11:00 A.M. all at St. John the Baptist Catholic Church 10010 Carolina Trace Road Harrison, Ohio 45030. Burial will follow at St. Mary's Catholic Cemetery Cincinnati, Ohio.
Memorials may be directed to Susan G. Komen c/o Jackman Hensley Funeral Home 215 Broadway Street Harrison, Ohio 45030.