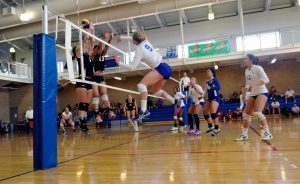 ECVB hosted Franklin County last night in an EIAC match-up. EC swept FC at all 3 levels.
Varsity won 25-16, 25-13, and 25-13. 'The theme for the past few days has been that we started slow and last night was no exception. We were slow to the ball, didn't communicate, and were just going through the motions for the first half of set one. When they realized FC wouldn't just fold and give them game, they decided to push a little harder. We never reached our full potential last night, but played well enough to get a convincing win on the scoreboard.' Trojans Coach Cassie Laker.
Varsity is now 8-4 on the season (3-0 in the EIAC). Next up: Lawrenceburg tomorrow (non-conference) with freshmen starting at 5, JV to follow, then varsity. This is also our annual Pass the Hope night to raise money for someone in the community battling cancer.
ECVB Freshmen vs. Franklin County
2-0
25-18 25-18
With a very slow start to the evening, ECVB Freshmen pulled off a 2-0 victory against the Franklin County Wildcats. With having a day off due to the holiday it was a rough start for this freshmen group. We did not come out of the gate fast enough and trailed behind the Wildcats for more than half of the first set. They fought their way back one point at a time, stepped it up, and pressed on in the second set.
ECVB Freshmen is now 3-0 on the season.
ECVB JV vs. Franklin County
2-0
25-19 25-15
Tonight, ECVB JV had as slow as a start as the Freshmen group did. Reminding the girls once again that aggression wins games with this group they improved their play and shut out the match 2-0. The more this group starts to focus on the obvious factors to victory, the more we will be able to develop in other detailed areas as a team. More experience the better with this group so bring on Thursday!
ECVB JV is now 7-1 on the season and 4-0 in EIAC play.
Next up, HOME on Thursday against the Lawrenceburg Tigers. Freshmen start the night at 5 pm.
Courtesy of Trojans Coach Josie Andres.
Tonight's game was another one for the books. We may not have won but the girls hung with EC and played exceptionally well all 3 sets. We had them in the first set by 5 points but were just unable to hold on to it. We are working on hitting key area of the court. I feel with each practice/game, we are growing and getting better. Audrey Reister had 1 ace serve, 2 kills. Makyah Richardson had 1 ace serve, 2 blocks and 3 digs.
Charlotte Barrett had 1 kill and 1 block. Anna Sacksteder had 1 block. Saige Mergenthal had 1 block and 1 dig. Kelly Layton had 1 assist and 1 dig. Jalynn Rogers had 4 digs. Rachel Bischoff had 1 dig. Kelsey Vail had 2 digs.
We are traveling to EIAC Rushville tomorrow Wed. Sept.4th. Freshman game starts at 5 pm, JV follows approx. 6 pm, Varsity follows approx 7 pm. We are FC!!!
Courtesy of Wildcats Coach Jill Mergenthal.