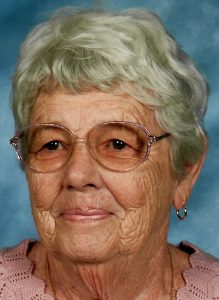 Margie Fortner, 98, of Dillsboro passed away Friday, August 30, 2019 at The Waters of Dillsboro.  Margie was born Monday, August 1, 1921 in Lawrenceburg, Indiana, the daughter of Edward and Clarice (Kittle) Alfred.  She married Harry Fortner July 19, 1946 and he preceded her in death January 30, 1978.  She was a member of the Dillsboro United Methodist Church.  She worked for We Wisdom Methodist Church in Newport Richey, Florida as a Pre-school teacher, a member of Dillsboro Senior Citizens and exercise class 50 plus.  She enjoyed reading, crossword puzzles and spending time with family.
Margie is survived by son Michael (Tina) Fortner of Dillsboro; daughter Susan (Mark) Milanowski of Largo, Florida; sister Vonnie (Chester) Wills of Leesburg, Florida; grandchildren: Gary Fortner of Ninevah, Indiana and Scott (Lisa) Fortner of Dillsboro; great grandchildren: Ryan Fortner of Ocala, Florida, Abbie Fortner of Detroit, Michigan and Ashlee Fortner of Dillsboro; great great-grandchildren: Kaydan Fortner and Ryan Fortner Jr. of Ocala, Florida; several nieces and nephews.  She was preceded in death by her parents, husband Harry, granddaughter Megan Fortner and brother Edward Alfred.
A service celebrating her life will be held 11 AM Thursday, September 5 at Filter-DeVries-Moore Funeral Home in Dillsboro with Pastor Deb Beason officiating.  Burial will follow in Riverview Cemetery, Aurora.  Family and friends may gather to share and remember her 9-11 AM Thursday also at the funeral home.  Memorial contributions may be given in honor of Margie to Dillsboro United Methodist Church.  Filter-DeVries-Moore Funeral Home entrusted with arrangements, 12887 Lenover Street, Box 146, Dillsboro, IN 47018, (812)432-5480.  You may go to www.filterdevriesmoore.com to leave an online condolence message  for the family.