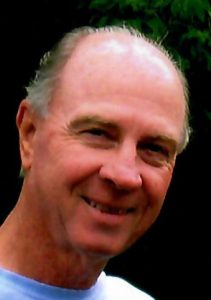 Jerry F. Stephens, 79, of Milan, formerly of Moores Hill, passed away Friday, August 30, 2019 at Ripley Crossing in Milan.  Jerry was born Tuesday, August 8, 1939 in Gardnersville, Kentucky the son of Orville and Deloris (Ellison) Stephens.  He married Margie Davies November 4, 1960 and she survives.  He served his country in the V-4 Division on the Navy Aircraft Carrier U.S.S. Intrepid CVA-11.  He was a member of Sparta Baptist Church for over 70 years.  He was a  mechanic for Monsanto.  Jerry had many hobbies including: rebuilding vintage cars, hunting, camping, hiking, sailing, loved singing with his sisters and singing in the choir at his church where he was choir director.  He held a private pilot license and loved to fly his own plane.
Jerry is survived by his wife Margie of Milan; daughters: Kimberly (Ken) Weber of Bright, Gayle Stephens of Knoxville, Tennessee and Patricia (Steve) Lampert of Greendale; 6 grandchildren, 5 great-grandchildren; sisters: Kay Rowell of Stringer, Mississippi and Jean Streeter of Dallas, Texas.  He was preceded in death by his parents.
A service celebrating his life will be held 11 AM Wednesday, September 4 at Sparta Baptist Church, 12177 Sparta Pike, Moores Hill, IN 47032 with Pastors Rick Burcham and Larry Streeter officiating.  Burial will follow in Mount Sinai Cemetery, with full military rites provided by Moores Hill American Legion Post #209.  Family and friends may gather to share and remember him 9-11 AM Wednesday, also at the church.  Memorial contributions may be given in honor of Jerry to Sparta Baptist Church or Ripley Crossing Activity Fund.  Sibbett-Moore Funeral Home entrusted with arrangements, Box 156, Moores Hill, IN 47032, (812)744-3280.  You may go to www.sibbettmoore.com to leave an online condolence message for the family.