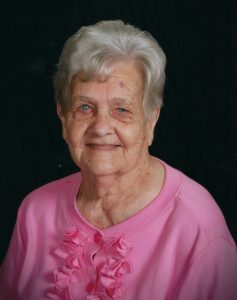 Luella Westerman Meyer, age 91 of Batesville, Indiana passed away peacefully on Thursday, August 29th at Aspen Place in Greensburg, INShe was born on April 4, 1928 in Sunman, Indiana near Lookout, to Henry and Lulu (Rinehardt) Westerman.
She was a graduate of Napoleon High School in 1947 and on January 17, 1948 she married Monroe H. Meyer at St. John's Huntersville Church.
Luella lived on a farm that kept her quite busy, although she had several other interests. These included gardening, reading, cooking and traveling with her family. Some places they visited are the 1964-65 New York World's Fair, Washington DC, Niagara Falls, Mount Rushmore, Yellowstone National Park, Wisconsin Dells, Florida, Arizona and a trip to Hawaii to celebrate their 25th wedding anniversary. Luella and Monroe were together as husband and wife for 68 wonderful years.
Luella enjoyed cooking and did lots of it. Some of her all-time favorite dishes included homemade egg noodles, mock turtle soup, German potato soup, cherry delight, pineapple cheesecake, chocolate chip cookies, and angel food cake. These dishes and many more were often enjoyed by her family at numerous holiday meals.
Luella is survived by her four sons and daughters-in-laws: Wayne and Toni (Pfeiffer) Meyer, Dan and Sandy (Pulskamp) Meyer, Art and Nancy (Kerker) Meyer, and Jerry and Janet (Meyer) Meyer; her two daughters and sons-in-laws: Linda and Richard Pfeifer, and Marge and Paul Thole. She will also be missed by her 19 grandchildren and 30 great grandchildren.
In addition to her parents, Luella was preceded in death by her husband, Monroe Meyer and her six siblings: Louis Westerman, Robert Westerman, Leona Davis, William Westerman, Viola Westerman and Henry Westerman.
Visitation will be Tuesday, September 3, 2019 from 4-8pm at Meyers Funeral Home in Batesville.  Funeral Services will be 10:00am on Wednesday, September 4th with doors opening at 9am, at St. John's United Church of Christ in Batesville with Pastor Joseph Feldmann officiating.  Burial will follow services in St. John's Cemetery.
Memorials are suggested to St. John's United Church of Christ c/o the funeral home.  Condolences may be left for the family at www.meyersfuneralhomes.com.