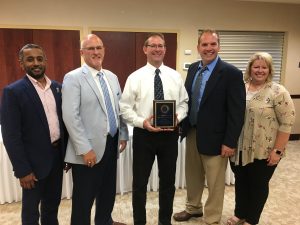 Greensburg, IN—The Greensburg Rotary Club #3437 in District #6580 held its annual Educator of the Year award ceremony Monday evening at the Hampton Inn and Suites.
The 2019/20 Rotary Educator of the Year Award was presented to Greensburg Community School teacher Scott Mangels.
District #6580 Governor Santhana Naidu attended the event which also included previous Educator of the Year award winners from Greensburg and Decatur County School Districts. Also, in attendance was Grant Peters, Principal at Greensburg Community High School and Greensburg Superintendent Tom Hunter. Both leaders spoke about the effort Mangels demonstrates with his students.
Greensburg Rotary President Lora Williams presented the award to Scott Mangels, reading the submission from Peters.
Mangels thanked many in the room, including former Greensburg Community Schools Superintendent Dr. Arthur Turner, who is also a Greensburg Rotarian. Dr. Turner was superintendent when Mangels was first hired at Greensburg School District.
Along with a plaque and the traveling plaque that will be displayed at GCHS for the year, the Rotary Club of Greensburg also provides a cash award for the winner.