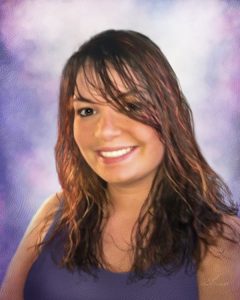 Miss Carrie Ann Magyar, age 31, of Florence, Indiana, entered this life on December 13, 1987 in Warren, Ohio. She was the daughter of Dennis Magyar and Pamela Lynn (Catanese) and James Hilligoss. Carrie was raised in Warren, Ohio until she moved to Switzerland County, where she was a 2005 graduate of Switzerland County High School. Carrie owned and operated a catering business in Yankeetown, Florida. She enjoyed cooking, fishing, camping, shopping and shooting guns and will be deeply missed by her loving family and friends. Carrie passed away at 12:05 a.m., Thursday, August 22, 2019, at the St. Elizabeth Hospice in Edgewood, Kentucky.
Carrie will be lovingly remembered by her mother, Pamela Lynn (Catanese) Hilligoss and her step-father, James Hilligoss of Florence, IN; her fiancé of 6 years, Jeremy Holder of Yankeetown, FL; her brothers and sisters, Tiffany Emery and her husband, James of Florence, IN, Timothy Scott Reitz of Florence, IN, Michael Magyar of Findlay, OH, Ryan King and his wife, Kelly of Florence, KY, Rebecca Foster and her husband, Scotty of Madison, IN, Eddie Hilligoss and his fiancée, Amelia Hatton of Deputy, IN, Adrianna Jennings and her husband, Frank of Austin, IN and Danielle Walters and her husband, Thomas of Jeffersonville, IN; her grandparents, Butch and Peggy (Pike) Hilligoss of Vevay, IN; her great-grandmother, Frances Lorraine (Peters) Pike of Vevay, IN and her numerous aunts, uncles, nieces, nephews, two great-nephews and cousins.
She was preceded in death by her maternal-grandparents, James Leslie Catanese, died October 2, 1993 and Lula Belle (Stevens) Catanese, died November 17, 2007; her paternal-grandparents, Frank and Madeline Magyar and her uncle, Tommy Magyar.
Friends may call 5:00 p.m. – 8:00 p.m., Monday, August 26, 2019, at the Haskell & Morrison Funeral Home, 208 Ferry Street, Vevay, Indiana 47043.
Memorial contributions may be made to the Carrie Ann Magyar Memorial Fund c/o Haskell & Morrison Funeral Home. Cards are available at the funeral home or online at www.haskellandmorrison.com