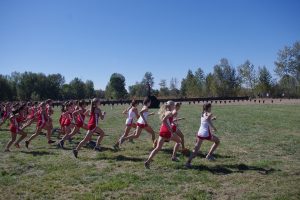 The Franklin County Girls Varsity Cross Country team won 3rd place at the Winchester Invitational.
Junior, Lauren Kelley won first place on Winchester's wooded, rugged course. Senior, Katelyn Meyer, had a successful start to her season with a 5th place finish. Sophomore, Katherine Apsley, steadily moved forward towards the front of the racers, finishing 13th. Junior, Josie Selm, finished close behind for 15th place. The girls stayed focused, kept a steady pace, and made the race extremely competitive. Only two points separated the first place team from Franklin County's 3rd place finish.
Team scores. Union County 56, Wapahani 58, Franklin County 58, Wes-Del 67, Winchester 91.
The Wildcat Boys Varsity runners gave an impressive first performance at the Winchester Invitational, competing on this course for the first time.
Junior, Drew Grant was the top finisher for Franklin County, winning 3rd. place Sophomore, Ben Maze, finished in 13th place. Freshman, Hunter Marshall, rounded out the top 15, just 20 seconds behind Ben. Freshman, Harmon Marshall, and senior, Kyle Seibert, finished just seconds apart, navigating Winchester's rugged course at a swift pace. This was a great start to the Franklin County Cross Country season.
Team scores. Wapahani 22, Muncie Burris 64, Franklin County 72, Winchester 100, Union County 116.
Courtesy of Wildcats Coach Stacey Nobbe.