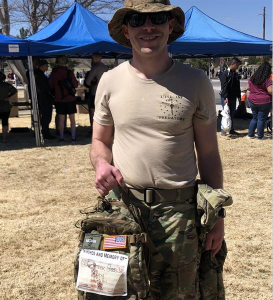 Nineveh, IN—An Indiana National Guard soldier who died at Fort Hood, Texas was also a firefighter with the Ninevah Fire Department. The department said Staff Sgt. Andrew Michael St. John had only been with them a short time, but he made them all better.
Staff Sgt. St. John died Thursday, Aug. 15 in a tactical vehicle accident. According to a release from the Indiana National Guard, Staff Sgt. Andrew Michael St. John, 29, was serving as an embedded observer controller/trainer with Army National Guard Operations Group Wolf when he died. St. John was an infantryman with Company B, 1st Battalion, 151st Infantry Regiment, Indiana Army National Guard.
The cause of St. Johns death is under investigation.