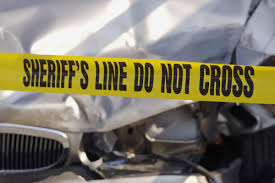 Batesville, IN—On Sunday afternoon, August 18th, 2019, the Ripley County Sheriff's Office responded to a report of a vehicle accident involving injuries located on SR 129 at the intersection of CR 1100 north near Batesville.
Arriving on scene deputies found that a 2011 Ford Fusion being operated 16-year-old Cassandra Kramer of Greensburg had been traveling west on CR 1100 north when it failed to yield at the intersection of SR 129 colliding with a 2015 Chevrolet Silverado being operated by 60-year-old Gerry Burnett of Holton as he traveled south on SR 129.
The impact caused the Silverado to roll coming to rest on it wheels as the Fusion continued off the west side of SR 129 striking a lawnmower being operated by 64-year-old Thomas Miller of Batesville before coming to rest on the west side of the road.
Kramer and a passenger were not injured and released from the scene.
Burnett, along with his passenger, 58-year-old Wanda English Burnett, also of Holton, had to be extricated from the vehicle before being transported to Margaret Mary Health by Batesville EMS for treatment of nonlife-threatening injuries.
Miller received minor injuries and was released at the scene.
The accident is currently under investigation by the Ripley County Sheriff's Office who were assisted at the scene by the Batesville Police Department, Batesville Fire & EMS.