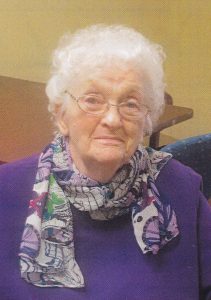 Juletta M. Larrison, 89 of Greensburg, passed away on Monday, August 19, 2019 at Aspen Place Health Campus. Juletta was born on July 21, 1930 in Greensburg, the daughter of Delbert and Bertha (Phelps) Critser. She married Max Larrison on December 12, 1957 and he preceded her in death on November 26, 2010.
She is survived by her son Jason Hull of Greensburg; four grandchildren – Jarrod (Kristin) Hull, Brent Hull, Jesse Hull and Isaac (Elissa) Larrison; five great grandchildren and her former daughter-in-law Della Hull. She was preceded in death by her parents, her husband and her siblings – William Critser, Rose Ella Johnston, Louise Hettmansperger and Mabel Robbins.
A graveside funeral service will be held at South Park Cemetery on Friday, August 23, 2019 at 10am. Memorial contributions may be made to Our Hospice of South Central Indiana. Online condolences may be made to the family at www.gilliland-howe.com.