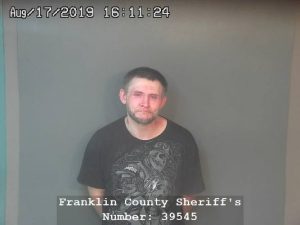 Brookville, IN—Saturday afternoon, officers with the Brookville Police Department executed a search warrant at a residence on Cliff Street in Brookville, Indiana. This search warrant was the result of an ongoing investigation conducted by narcotics investigators with the Brookville Police.
The home was occupied by Sierra Elizabeth Marie Moore of Brookville, Indiana and Brian Carl Byrd of Brookville, Indiana.
Upon execution of the search warrant, officers located a white/clear crystalline substance suspected to be Methamphetamine, hypodermic syringes, Marijuana and multiple items of drug paraphernalia. Moore and Byrd were immediately taken into custody by the investigating officers and transported to the Franklin County Security Center in lieu of bond.
Both were booked on allegations of Possession of Methamphetamine, Possession of a Hypodermic Syringe, Neglect of a Dependent, Possession of Marijuana, and Possession of Drug Paraphernalia.