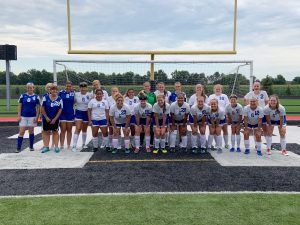 The Greensburg Lady Pirates Soccer opened the season with a tie against Knightstown on Saturday.
The team, led by captains Kelsy Scott, Haley Bockover, Sierra Huffman, and coach Ryan Morlan, kept the game moving at a fast pace. The first goal was set up by a save from Pirates keeper, Ella Lowe. Lowe's quick reaction to put the ball back in play allowed the team to move to a fast strike on the goal by Bockover. The ball traveled the length of the field and settle in Knightstown's goal in less than 12 seconds. At the half, the Pirates led 1-0.
The second goal was led by the kickoff that started the second half. A well-executed play sent the ball deep into the scoring zone and the point was collected by a shot from Emily Rosales. The score stayed 2-0 until a weather delay with 19 minutes left on the board. When the game resumed Knightsville managed to score two unanswered points to tie the game.
Some notable stats from the game; Haley Bockover had six shots on goal, Emily Rosales had two shots on goal, Sierra Huffman had one assist, Kepper Ella Lowe had nine saves including one Penalty Kick.
Courtesy of Pirates Coach Ryan Morlan.