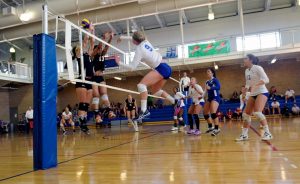 Batesville Volleyball kicked off the season with a win against the Milan Indians Saturday, August 17.  Our goal this year is to not limit ourselves and to never be satisfied. This win was important to set the tone for a winning season and The Dogs came out and dominated. Score were 25-15, 25-12, 25-13.
Next match is Monday, August 19th at South Ripley High School.
Courtesy of Bulldogs Coach Kateri Paul.
The Batesville JV Volleyball Team picked up a decisive win over Milan on Saturday winning by the scores 25-13, 25-6.
Consistent passing and aggressive net play set the tone for the match. Leading the way from the service line was Regina Gerstbauer with 18 points while connecting on 19 of her 20 serves. Naia Bustinza chipped in 9 service points while going perfect on all 11 of her attempts. Brayleigh Patterson earned 4 kills followed closely by Shelby Westerfeld with 3 at the net. Sydnee Schaefer was tops in digs and serve reception with 4 and 6 respectively.
Courtesy of Bulldogs Coach Shelly Prickel.