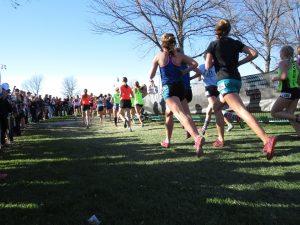 The Batesville High School Cross Country team opened up their season on Saturday they traveled to Terre Haute to compete on the State LaVerne Gibson course against 21 other teams.  Both the boys and the girls had solid performances all around placing 5th and 6th respectively.
The boys raced first as the humidity was already present, lining up with 20 other teams totally 358 runners altogether. Top performances for the boys were Adam Moster crossing the line at 18th in 17:00. He was followed closely by teammates, Ean Loichinger, 22nd (17:11) and Joshua Myers, 26th (17:14).  Next for the Bulldogs was Benjamin Moster in 35th place (17:24), Adam Hollowell, 64th (17:35) and Daren Smith, 86th (18:19).  Finishing out the top 7 for the dogs was Dillon Murray who finished at 119 (18:52).
On the girls side, they again stood at the start line with 20 other teams, totally 294 competitors.  The girls were led by sophomore Lily Pinckley crossing 7th at 19:57.  Liz Loichinger followed her in 13th at 20:37.  Then Batesville has a nice pack taking spots 40, 41, 44, 45 and 52nd.  They were Ava Hanson (21:32), Maria Lopez (21:33), Madison Rahschulte (21:42), Sophie Myers (21:44) and Trysta Vierling (21:58). Close behind this pack was Sarah Ripperger in 66th at 22:37. This is a tough course and we already had one person set a personal best, beating her best from last season and that was Maria Lopez.
Way to go Maria!  The Bulldogs were against mostly 4A and 5A schools and accepted that challenge.
They will compete again this Thursday at North Branch golf course where they will complete against North Decatur, South Decatur and Greensburg.
Courtesy of Bulldogs Coach Lisa Gausman.