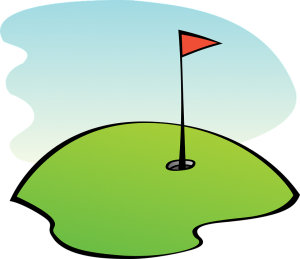 The Lady Cats made the long trip to Anderson yesterday to participate in the Lapel Invitational. Despite a rain delay they were able to get all 20 teams teed off by 2:30. FCHS walked off the course last night at 8PM. It was a long day but the Cats were able to keep it together for 5.5 hours and post an impressive score of 362 and place 6th in a loaded field of teams. Senior, Maggie Brack, was able to post a personal best score of 81 and place in the top 10.
"This team overcame a lot of adversity this week. In 6 days we were on the road 4 times. We didn't play well on Friday night against Batesville and I could tell the team was just frustrated and tired. With a long drive and a late start on Saturday I wasn't sure how this team was going to respond. Well, they far exceeded my expectations! To place 6th in a field like this I couldn't be prouder of how this team performed today. 4 of the 5 teams that beat us were all ranked in the top 20 in the state and they were able to hold off Richmond and Greenfield Central, which are teams that have been able to beat us this season. It was a gutsy performance by the Lady Cats on Saturday and they are definitely ready for a couple of days off." Wildcats Coach Marisa Mears.
They will be back in action on Wednesday when they travel to Rushville to take on the Lady Lions.
FC Team Scores. Maggie Brack – 81 (PR), Gracie Graf – 92, Camryn Brewer – 88, Taylor McCreary – 107, Ashlan Hill – 101.
The Lady Wildcats were in action on the road against Batesville and Oldenburg at Hillcrest Country Club on Friday night.
Despite tough pin placements and fast greens they were able to shoot a 184 and take the win against Batesville and Oldenburg. Batesville shot a team score of 203 and Oldenburg did not have enough players to post a team score.
Junior, Camryn Brewer was low for the team with a score of 43.
FC Team Scores. Maggie Brack – 48, Gracie Graf – 46, Camryn Brewer – 43, Taylor McCreary – 47, Ashlan Hill – DNF.
Courtesy of Wildcats Coach Marisa Mears.
The Batesville Lady Bulldogs lost to the Franklin County wildcats in a match at Hillcrest by a score of 183 to 204 Oldenburg also competed but only had 2 golfers.
Franklin County was led by Cameron Brewer with a 43. Gracie Graff 45 Taylor McCreary 47. Maggie Brack 48.
Batersville. Emma Weiler 39 Sarah Ronnebaum 47. Tori Harpring 57 Chloe Murphy 61 Madelyn Pohlman 70.
For OA. Emerald Simmons 60 Amelia Austin 66
Courtesy of Bulldogs Coach Tom Meyer.