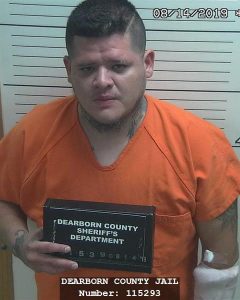 Lawrenceburg, IN—Francisca Vazquez, aka Francisco Vazquez, age 31 of Northland Blvd, Cincinnati, Ohio was arrested on August 14th, 2019 in connection to the Robbery with a Deadly Weapon at the Concept's Gentlemen's Lounge in Lawrenceburg.
Witnesses and employees reported that Vazquez brandished a gun and then fired multiple gunshots inside the Lounge during a robbery. Vazquez held at gunpoint several unidentified patrons of the establishment during the robbery.
Police are actively trying to identify three males who are alleged robbery victims in this case. "We would like to talk to these men because we believe they were robbed by Vazquez", stated Prosecuting Attorney Lynn Deddens. "We have photographs of the individuals in hopes of identifying them. Police as If you know who these men are, please reach out to Det. Jeremy Shepherd of Lawrenceburg Police Department at 812-537-2284."
Vazquez was charged with Robbery with a Deadly Weapon, Attempted Kidnapping, two counts of Criminal Confinement with a Deadly Weapon, Intimidation, Pointing a Firearm, and Resisting Law Enforcement.
Vazquez is set for an Initial Hearing on Monday, August 19, 2019.