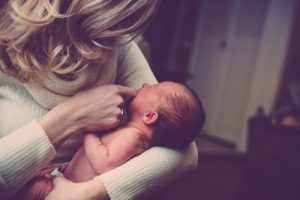 Indianapolis, IN—The Indiana State Department of Health (ISDH) held the first of a series of community roadshows Wednesday at Ivy Tech Community College to discuss Indiana's new OB Navigator Program, which is aimed at reducing the state's infant mortality rate. Indiana currently ranks 7th in the nation for infant mortality, which is defined as the death of a baby before his or her first birthday.
Governor Eric Holcomb has tasked ISDH, in partnership with the Family and Social Services Administration and Department of Child Services, to reduce Indiana's infant mortality rate to the lowest in the Midwest by 2024. As part of that effort, he signed House Enrolled Act 1007 into law to create the OB Navigator Program. The program will connect expectant mothers throughout the state to prenatal care and provide referrals for wraparound services and home visiting programs, starting with the state's highest-risk areas. A total of 13 public events will be held around the state to highlight the program starting with Fort Wayne.
Additional roadshows will be scheduled for our listening area in the coming months in Shelby and Bartholomew Counties.