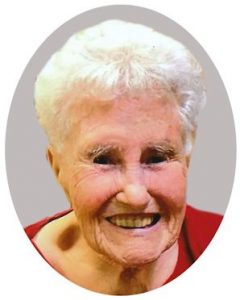 Pauline M. Niese, age 98 of Batesville, died Tuesday, August 13, 2019 at St. Andrew's Health Campus.  Born August 31, 1920 in Franklin County Indiana, she is the daughter of Rose (Nee: Lecher) and Bernard Koetter.  She married Louis Niese May 14, 1941 at St. Anne's Church in Hamburg and he preceded her in death August 27, 1980.  Pauline worked in housekeeping for Hillenbrand Industries 15 years and for many years was a personal care giver for area residents.  She was a member of St. Louis Church and the Knights of St. John Ladies Auxiliary.
Pauline liked to stay busy and with 10 kids that wasn't difficult.  She loved being outdoors and working in the large garden she raised.  An excellent cook, her fried chicken on Sunday's was a family staple.  She liked playing cards and through the years belonged to several card clubs.  Over her lifetime she has made countless quilts with her children, grandchildren and great grandchildren having each received one.  She also made one each year to be raffled off at the church picnic.  One of her favorite quotes was "Families are like quilts, lives pieced together, stitched with smiles and tears, colored with memories and bound by love."  As large as her family was, she had a special relationship with each of her grandchildren, great grandchildren and great great grandchildren.  She loved holding them when they were little and as they grew, she spoiled them with treats.  She kept an endless supply of Dum Dum suckers that they knew where to find.
Pauline is survived by her daughters Pat Schrank of Oldenburg, Viola Billman of Sunman, Lucille Honnert of St. Mary's; sons Virgil and Dale, both of Batesville, Jim of Brookville; 30 grandchildren; 75 great grandchildren and 8 great great grandchildren.  In addition to her husband and parents, she is also preceded in death by her daughters Ann Montag, Rose Niese and sons Joe and Clifford Niese; sisters Helen Messerschmidt, Eleanor Weisbach and brothers Roman and Omer Koetter.
Visitation is Monday, August 19th, from 4 – 7 p.m. at the Weigel Funeral Home with a rosary service at 4 p.m.  Funeral services are 11 a.m. Tuesday, August 20th at St. Louis Church followed by burial in the church cemetery.  The family requests memorials to the Batesville Food Pantry.