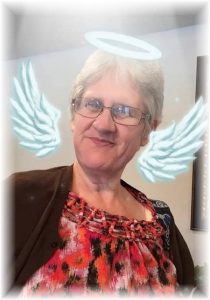 Joanna Grinnan, age 54 of Osgood, Indiana passed away on Wednesday August 14, 2019 at the University of Cincinnati Medical Center in Cincinnati, Ohio surrounded by her loving family.  The daughter of William and Anna (nee: Bray) Alford was born on July 26, 1965 in Houston, Texas.
Joanna married Dale Grinnan in Fredericksburg, Virginia.  She was a Worship Leader at the Church on the Rock in Batesville, Indiana.
She was a mother but also a friend, always there for others with a servant's heart.  I strive to be like her.  Her beautiful smile and warm laugh would create joy everywhere she went.  The inside jokes that we've had will always remain with me.  I thank her for the good life she's given me – Kadee (Daughter).
She was a beloved daughter, gone to be with the Lord.  We are going to miss you.  We will miss your singing praises to the Lord.  We know that you are singing with the Angels – Anna (Mother)
Joanna is survived by her husband Dale Grinnan of Osgood, IN, her daughter Kadee Novinger Koen of St. Mary's, GA, her parents William and Anna Alford of Milan, IN, her sister Judy (Chris) White of Madison, IN, brothers Dean (Shelly) Alford of Batesville, IN and John (Jennifer) Alford of Lebanon, OH, Sister-in-law Tonya Alford of Batesville, IN and several nieces and nephews.
A Memorial Service will be on Saturday, August 17, 2019 starting at 12:00 p.m. at Church on the Rock in Batesville, IN.
Memorials may be given to Church on the Rock c/o the funeral home.  Online condolences www.meyersfuneralhomes.com.