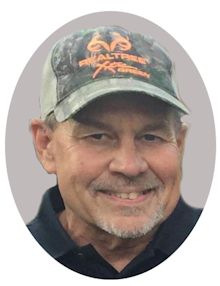 William R. Kerker, age 69 of Oldenburg, died Tuesday, August 12, 2019 at Christ Hospital in Cincinnati.  Born April 5, 1950 in Batesville, he is the son of Mary Jane (Nee: Holtel) and Robert Kerker.  He married Susie Weisenbach September 27, 1975 at St. Louis Church and worked as a machinist at Wood-Mizer 30 years before retiring.
To say Bill loved the outdoors would be an understatement.  He enjoyed riding four-wheelers, motorcycles, taking jeep rides and going for walks as well as being an avid fisherman and trapper.  A Reds and Bengals fan, his family also explained that being a machinist, he could fix or make most anything.  His greatest joy was time spent with his family and grandkids.
Bill is survived by his wife Susie of Oldenburg; daughter Katie Hunter; son Jarod Kerker; sister and brother-in-law Kathy and Ken Bohman, all of Batesville; brothers and sisters-in-law Steve and Mary Beth Kerker, Dan and Cathy Kerker, all of Oldenburg and grandchildren Will, Ben, Sarah and Owen.  He was preceded in death by his parents.
Visitation will be Thursday, August 15th, from 5 – 7 p.m. at the Weigel Funeral Home.  Funeral services are 11:00 a.m. Friday, August 16th, at Holy Family Church, with Rev. Mike Chowning O.F.M. officiating.  Burial will follow in the church cemetery.  The family requests memorials to the Holy Family Church Capital Improvement Fund.  Online condolences may be made at www.weigelfh.com.