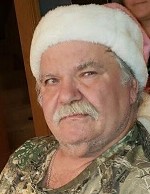 Raymond Kraus of St. Leon, IN, passed away Monday, August 12 at the age of 63. Raymond loved to farm, grow a plentiful garden of vegetables, raise cattle, and attend the flea market every Wednesday with his granddaughter, Abigail. He was a regular at the church festivals and would spend the majority of his time trying to win a ham or buying bars and bells which he would share with Abigail. After much convincing by his daughter, Aimee, Raymond recently upgraded from his trusted flip phone to a smart phone which opened up a whole new world to him. His family can attest he quickly got hooked on Ebay, Amazon and Facebook. Raymond loved to fish and watch the hummingbirds and Martins from his porch. Interestingly, the Sunday before his death a white Martin was seen lingering near the house.
Raymond will be greatly missed by his wife, Beth, whom he married on May 16, 2005. He also leaves behind his daughter Aimee Wesley and granddaughter Abigail Wesley. Raymond was self admittedly wrapped around Abigail's finger and together they would watch Bonanza, Daniel Boone and Little House on the Prairie. They also shared a love of sweets, especially ice cream, of which they recently shared 10 ice cream cones at the IBEW Local 212 picnic. Raymond also leaves behind his sister Clara Ann (Larry) Zinser, Joe Kraus, and Robert (Dianne) Kraus. He is preceded in death by his parents John and Anne Marie as well as his infant sisters Mary Lou, Joan Marie, and Margaret Marie Kraus. Raymond was a member of IBEW Local 212 and All Saints Parish in St. Leon, IN.
Visitation for Raymond will be held on Saturday, August 17 from 10:00 am – 1:00 pm at Andres-Wuestefeld Funeral Home, beginning with Rosary at 10:00. Mass of Christian Burial will be held at 2:00 at All Saints Parish, St. Joseph Campus, immediately followed by burial. The family requests that in lieu of flowers, donations be made to St. Jude's Children's Hospital and Mid-West Boston Terrier Rescue. To offer condolences or sign the online guest book, please visit www.andres-wuestefeldfh.com.