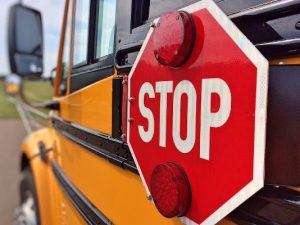 Indianapolis, IN— Governor Eric J. Holcomb recently announced grant funding for increased traffic enforcement at school-bus stops. About 230 Indiana police agencies receive federal grants for highly visible traffic enforcement including speeding, aggressive driving, and school bus stop-arm violations. The Indiana Criminal Justice Institute is awarding approximately $380,000 to 39 agencies for overtime school-bus stop enforcement over the next two months.
Gov. Holcomb signed a new school-bus safety law that took effect July 1. State law requires a school bus to use flashing lights and extend its stop arm while loading and unloading students along a roadway. State law also requires drivers to stop while the arm is extended. On highways divided by a physical barrier or unimproved median, traffic traveling in the opposite direction as the school bus may proceed with due caution.
Law-enforcement agencies awarded additional grant funding are listed below in alphabetical order. Police agencies may apply for future traffic-enforcement grants, including school-bus stop enforcement grants, through Aug. 30 by clicking here.
Area recipients of the funds include:
Connersville Police: $3,111
Decatur County Sheriff: $3,000
Jackson County Sheriff: $39,680
Seymour Police: $3,000