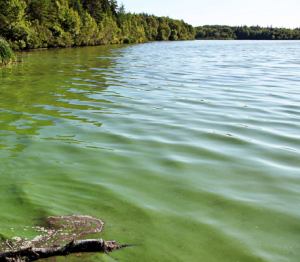 Statewide—The state issued an advisory for several Indiana recreational spots that could have high amounts of blue-green algae.
The Indiana Department of Environmental Management issued the recreational advisory Friday. Blue-green algae has been in the headlines over the last few weeks after several dogs in the southeast part of the country died from being exposed to it.
The advisory includes the following areas, which showed high levels of blue-green algae:
Brookville Lake – Quakertown SRA
Brookville Lake – Mounds SRA
Cecil M Harden Lake – Raccoon Lake SRA
Hardy Lake – Hardy Lake SRA
Kunkel Lake – Ouabache SP
Monroe Lake – Fairfax SRA
Monroe Lake – Paynetown SRA
Whitewater Lake – Whitewater Memorial SP
Worster Lake – Potato Creek SP
DNR Reservoir Specialist Phil Brown says anyone who does go in the water should shower off as soon as possible. The advisory also says you should avoid allowing your pets to drink or swim in lake water under the advisory. Animals are not necessarily more vulnerable to the algae toxin effects, but they are more likely to drink larger amounts of lake water while playing.
According to the DNR's website, Blue-Green Algae are capable of producing several different toxins.  The toxins can cause rashes, skin or eye irritation.  It can also cause nausea, stomach aches and tingling in the fingers and toes.
Algae blooms can be fueled by excess lawn fertilizers and runoff from pastures, feedlots, lawns and golf courses.  They can also be fueled by drainage from sewage systems, as well as warm, sunny weather.
Sampling of the water began on May 13 to coincide with the opening of swimming beaches around the state. Testing will continue through Aug. 26. You can learn more about blue-green algae, and the DNR's current list of advisories on their website.