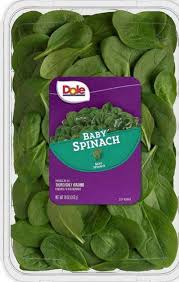 Nationwide—Dole issued a voluntary recalling bags of baby spinach after a random test sample from the batch tested positive for Salmonella, the FDA said on Friday. No illnesses have been reported in connection with the recall.
The recalled spinach was sold in Illinois, Indiana, Kentucky, Michigan, New Jersey, Ohio, Tennessee, Virginia, and Wisconsin. The FDA notes that all of the recalled product has expired, so all baby spinach on grocery store shelves should be safe to eat.
Dole issued recalls for six-ounce bags of baby spinach with the lot code W20308A and UPC code 0-71430-00964-2. The recall also includes 10 oz clamshells of spinach with the lot code W203010 and UPC code 0-71430-00016-8. Both have a use-by date of August 5, 2019.
Those who have any of the recalled spinach in their fridge should throw it away.