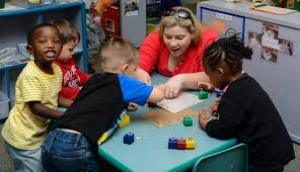 Statewide—With research showing that pre-K education results in better test scores, less crime, and economic benefits, the personal-finance website WalletHub today released its report on 2019's States with the Best & Worst Early Education Systems.
While good elementary schools, high schools, and colleges are important factors for parents to consider when choosing where to settle down, the availability of quality pre-K education is just as crucial.
A study by the National Institute for Early Education Research showed that students enrolled in full-day pre-K programs do better on math and literacy tests than their peers who attend only partial day preschool. In addition, those who attend pre-K programs have been shown to have less risk of future crime than those who do not. Plus, pre-K programs may generate billions of dollars for the economy over a few decades, due to lessening the need for social services and creating more productive citizens.
Indiana was ranked as the worst state for early education
Quality of Early Education in Indiana (1=Best; 25=Avg.):
46th – Share of 3- and 4-year-olds Enrolled in pre-K, pre-K Special Education, and Head Start
46th – Total Reported Spending per Child Enrolled in Preschool
27th – Monthly Child Care Co-Payment Fees as a Percent of Family Income
44th – Pre-K Program Growth
51st – Change in State Spending per Child Enrolled in Preschool (2016-17 to 2017-18)
For the full report, click here.