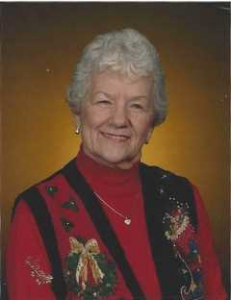 Betty Lou (Clayton) Walker-Carder, 86 formerly of Greensburg, passed away on Friday, August 9, 2019 at Springhurst Health Campus in Greenfield. Betty was born on April 15, 1933 in Walton, KY, the daughter of James Clayton and Robbie (Shoemaker) Hetzel. She married James E. Walker and together they had four sons: Steven, Jeffrey, Eric and James Keith. After the passing of her first husband in 1972, she married James Carder on November 29, 1974 and he preceded her in death on February 9, 2011.
Survivors include three Sons – Steven (Sherry) Walker of Greenfield, Jeffrey (Debbie) Walker of Heber Springs, AR and Eric (Patty) Walker of Bethel, OH; four Step Children – Tamara Caufield of Mooresville, North Carolina, Mark Carder, Brian Carder of Greensburg and Craig Carder of Orlando, FL; many grandchildren and great grandchildren. She was preceded in death by her parents, both spouses, one son James Keith Walker and her three brothers James, Harry and Bill Clayton; and three Sisters – Martha Dalton, Sue Eickhoff and Nell Estep.
Betty was a devoted homemaker, wife and mother to her family. She enjoyed reading, playing golf, cards and gardening. She was a member of the Greensburg United Methodist Church.
A private Graveside Service will be held on Tuesday, August 13, 2019 at the South Park Cemetery. Memorial contributions may be made to the Greensburg United Methodist Church, 301 N. Broadway Street, Greensburg, Indiana 47240 or to Our Hospice of South Central Indiana, 2626 17th Street, Columbus, Indiana 47201. Online condolences may be made to the family at www.gilliland-howe.com.