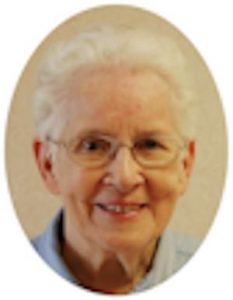 Sr. Francis Ann Lewis, age 94 of the Sisters of St. Francis in Oldenburg, died Sunday, August 11, 2019 at the convent. Born Dorothy Ann Lewis on May 31, 1925 in Terre Haute, IN, she is the daughter of Mary (Nee: Farrell) and George Lewis, the fifth of ten children.
Sr. Francis Ann attended school in Terre Haute and never heard of the Oldenburg Franciscans until a visiting priest mentioned the order.  Her mother always prayed that one of her children would enter religious life and with the help of a priest, she was put in contact with two sisters from the convent and chose to enter the convent August 12, 1943.
She taught young students in Richmond, Indianapolis, Batesville, Osgood and Oldenburg, Indiana as well as Dayton, Hamilton and Cincinnati, Ohio before returning to assist at the Motherhouse in 1986.
In an interview, Sr. Francis Ann revealed, "My soul rejoices in my God!  My heart sings out in grateful praise as I count the many blessings I have received throughout my years as a Franciscan.  Even before I entered, when I didn't know how to find a way to follow my call, God saw fit to send Fr. Francis Gary, O.F.M., to be my guide to this community.  Once here, I felt gifted by a whole canonical year in which to deepen my relationship with God.  God stayed with me as I began my ministry as I met my first class of second graders.  One little boy raised his hand and said, 'That boy said you're an old battle axe!' And I was all of 22!  Yes, I needed the gift of patience and a sense of humor."  She concluded, "My treasure is the prayer I say while putting on my crucifix:  May the cross of Jesus Christ be my secure protection against the assaults of the enemy and a power in the Communion of Saints."
Sr. Francis Ann is preceded in death by her parents; sisters Rosemary Witt, Frances Hall, Margaret Lewis, Ann Lewis and brothers Joseph, John, Thomas, Richard and Joseph Lewis.  Visitation is Friday, August 16th from 1 – 3 p.m. in the convent chapel. Funeral services follow at 3 p.m. with Rev. Hans Gruenbauer officiating and burial in the convent cemetery. Memorials may be made to the Sisters of St. Francis, P.O. Box 100, Oldenburg, Indiana, 47036 (www.OldenburgFranciscans.org).  For online condolences go to www.weigelfh.com.